by Danielle Gamble, courtesy of Olean Times Herald
Flo Leeta, covered in a sparkling white jumpsuit and a pastel wig swirled into a prominent unicorn horn, looked up from the book she had been reading — "Jacob's New Dress." She had just gotten to the part where Jacob was being told by his classmates that boys can't wear dresses.
The Buffalo-based drag queen peered at the more than 70 children in front of her at the Olean Public Library with a thoughtful expression under her hot pink eyeshadow.
"There are all sorts of ways to be a boy," she said. "Right?"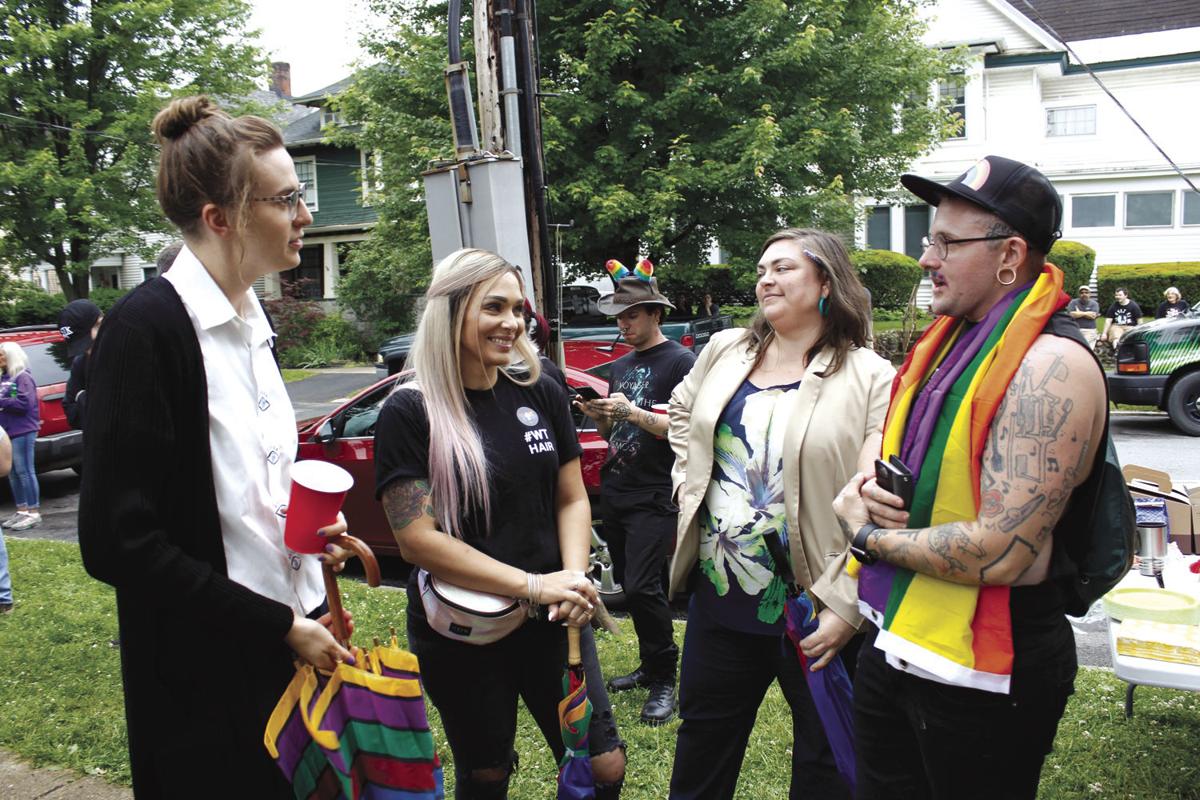 Rows of girls and boys, many dressed in princess or fairy costumes and crammed into the library's Art Gallery, shouted back in agreement. Outside the gallery, more than a hundred parents and supporters who couldn't fit into the space waited.
Flo Leeta entertained as part of the library's Drag Queen Kids Party for nearly two hours Wednesday. She read two books and lip synced three times — twice to "Let It Go" from Disney's "Frozen," and also to RuPaul's "Cover Girl." She then gave a brief presentation about gender, during which she went through some history of feminine and masculine fashion and tried to explain concepts like gender fluidity.
"You know how water moves around and isn't one shape? That's how some people are," she said, standing in front of a colored projection of "The Gender Spectrum."
The event was part of the library's efforts to highlight Pride Month for the lesbian, gay, bisexual, transgender and queer community. Flo Leeta answered questions as simple as how long it took to do her makeup — two and a half hours — and as complex as explaining what a bioqueen is — a drag queen who is a female, which is different from a man who portrays a woman as a traditional drag queen.
Afterward, a line formed as excited children, teens and adults waited to take their picture with Flo Leeta.
Nearby, Olean Public Library director Michelle La Voie was beaming, elated by the turn out. "It was exactly like in our dreams," she said of the community support.
For two weeks leading up to the event, library staff had received a lot of negative feedback online, on the phone and in person. They were also told there would be a protest at the event, which was supposed to include neo-Nazis — though none appeared to attend Wednesday.
La Voie said she and other library staff were initially very disappointed by the negativity surrounding their decision to host a drag queen event geared toward children, and she had been nervous things could get out of hand.
But her attitude was turned around by the dozens and dozens of supporters who showed up, and the cheers from children when Flo Leeta asked them if they wanted her to come back. "It's not even like my faith is restored — it's like I have a whole other view of this community," she said.
Those who came as supporters — who took up spots in front of the building as early as three hours before the event — chatted amongst themselves while wearing things like rainbow facepaint and pro-LGBTQ pins and T-shirts.
SaJean Webb, 17, came out with her family from Wellsville to support the library after seeing there would be protests. "I have two moms and I do drag, and for me it's like a huge thing for somebody to come into my life and say that's wrong. Because it's not — it's just how we live our lives."
Webb said she was happy to see the library host an event specifically for children with positive information about the LGBTQ community. To her, it's a step toward helping people understand the life she and her younger sister have had.
"If you teach your kids that that's wrong, you're going to teach your kids to hate, and they're going to grow up and hate, and that's not OK."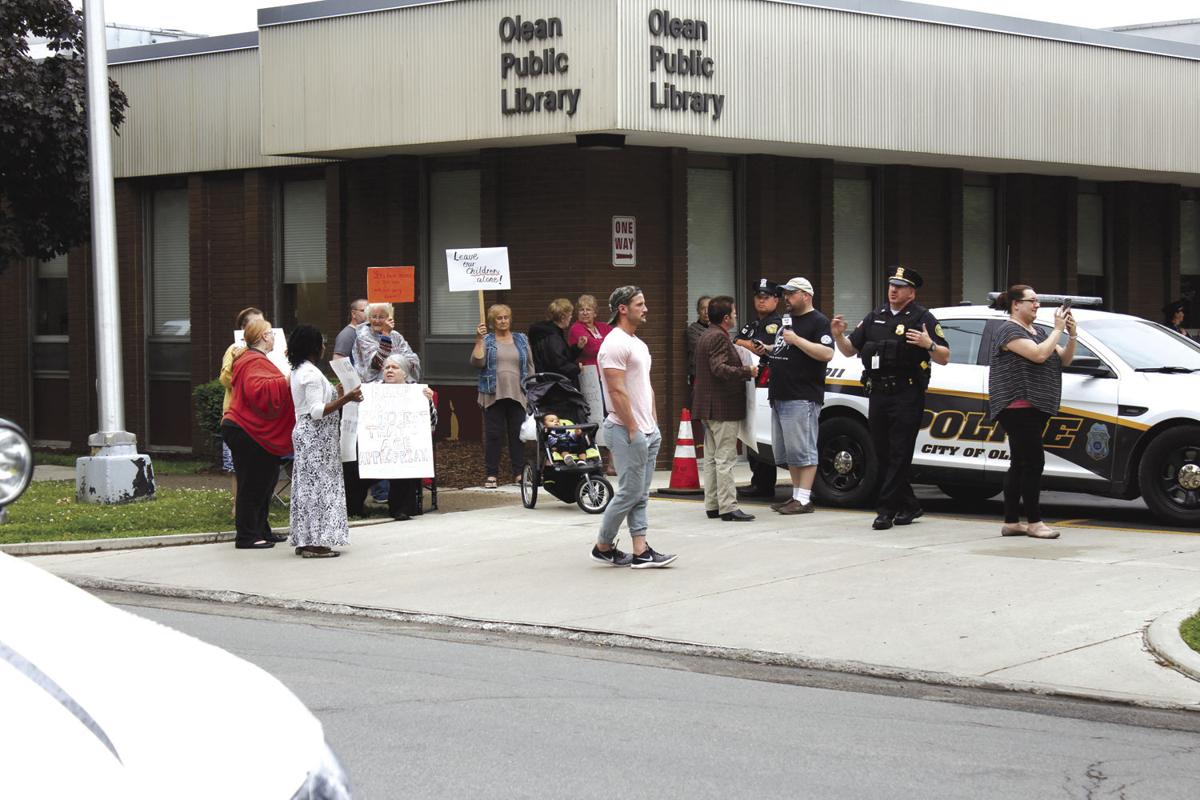 One of her moms, Danielle Freeman-Braven, said even as she has served on the board of the Olean-based LGBTQ group COLORS, she had never seen local people motivated to protest an LGBTQ event. "(Flo Leeta) is just pushing for you to be happy and love who you are," she said.
Though a Pennsylvania leader of the National Socialist Movement publicly stated the organization would be at the event, they did not appear to attend. Law enforcement and library officials also said they saw no protesters from the neo-Nazi group at the library all Wednesday.
The protests remained peaceful, which La Voie chalked up to the heavy presence of police and supporters. Roughly eight Olean police officers were present, including Olean Police Chief Jeff Rowley, as well as a New York State Police officer.
As officers patrolled, Olean Mayor Bill Aiello stood across the street from the library. He did not attend the reading, as he said he had family commitments, but added he stopped by beforehand in case citizens wanted to talk with him, as well as to "make sure this is going to be peaceful."
At the northwest corner of the library, across the parking lot from supporters, a group of less than 10 protesters gathered with signs that included statements like "Leave our children alone!" and "Keep kids innocent."
Protester Jonathan Smith, of Olean, asked why Flo Leeta was appearing in her performance attire and not as the male performer who brings her to life, Benjamin Berry. Smith wrote a letter to the editor to the Olean Times Herald against the library's drag queen reading event, and said he was specifically against a publicly-funded organization hosting it.
"If you want to read a story book to children, come and do it," he said at the protest. "But then he's being political coming out as a drag queen and that's already a sexual thing, so that adds a sexual flavor to the story book reading concept."