by Peter Salter, courtesy Lincoln Journal Star
Days after the Lincoln (NE) woman took a recipe book back to the Lincoln library on Superior Street, she received something in return.
A letter, and a cause for alarm. "On 11/28/18, library staff discovered evidence of bed bugs in an item you returned to Eiseley Branch Library," it began.
The letter instructed her to seal her remaining library items in plastic bags and return them to the counter for inspection. And it warned her she could be charged if library staff found more bed bug evidence and had to trash the items.
The woman was incredulous, and spoke to the branch manager, she wrote last month in a letter to the city. "I asked how the library would know that the book had been contaminated at my home, or whether my home was at risk of contamination from the infestation problem at the library?"
A simple question — with a complicated answer that involves freezers and dogs, and dates to 2014. "We had somebody that brought some books back with bugs in them," said Julie Beno, library services coordinator. "And that's what started it all."
Five years ago, the bed bug scare was full-blown nationally, with reports of infestations in theaters and thrift stores, schools and surgical centers. And libraries. In May 2014, for example, the North Platte Public Library was forced to close for nearly a week to get rid of its bed bug problem.
When Lincoln library staff found those first bed bugs that same year, they took the books to the county extension entomologist. "She immediately froze the books for three or four days and then she examined them and said it was bed bugs," Beno said.
The library realized it needed a systemwide policy, she said, so it formed a bed bug committee. It worked with the extension service to come up with bug-detection procedures and a training program for all of its employees.
Which is why librarians physically inspect each of the 2.7 million items that are returned to the city's eight branches annually. They flip through the pages. Check under the covers. Look down the spine. "They like tight spaces," Beno said of bed bugs. "We have to look as deep as we can."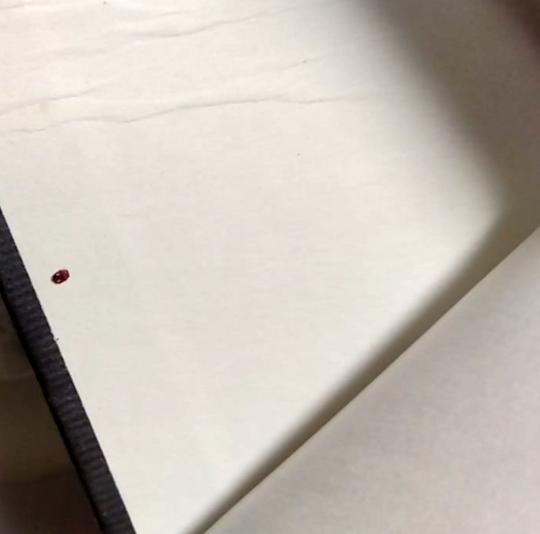 They find food stains and $100 bills and they once found a piece of bacon used as a bookmark. And maybe once or twice a month at Bennett Martin Library — and not as often at other branches — they find evidence of bed bugs.
"We've had everything from one dead bug or a few smears, to opening things up and seeing three bugs run across the page," said Scott Clark, the librarian on inspection duty Friday morning.
When that happens, the librarian seals the suspect material in a pair of plastic bags and places it in a nearby chest freezer. If other books were nearby, in the return box or truck, they're bagged and frozen, too.
After four days at zero degrees — enough to kill a living bug or viable egg — the items are removed and examined. Librarians look for dead bugs and fecal stains, little black spots. They sometimes ask UNL urban entomologist Jody Green to double-check their suspicions, to rule out crumbs or mustard stains.
And if they find legitimate evidence or damage, they typically toss the item. "We don't want it in the building," Beno said. "The majority of the books where we find damage, we throw away."
The library also notifies the borrower with a letter, saying they found evidence of bed bugs and requesting any other library items be returned in plastic bags to be checked. And it warns the borrower there could be charges, if the materials must be thrown away.
It was for the woman who returned the recipe book to the Eiseley Branch in November. She paid more than $100 for a pest-detection company to check her house, and it found nothing. She's filed a claim with the city, asking it to reimburse her.
The library's detection doesn't stop at check-in. Every three months, certified detection dogs patrol the aisles of each branch. "Instead of finding drugs, they're finding bugs," said James Pelowski, owner of K9 Bed Bug Detection of Nebraska. "They're good at what they do."
Pelowski started his company nine years ago and now has three four-legged bug detectors. He and his dogs — each worth about $10,000, he said — are hired to check area hotels, hospitals, nursing homes, fire stations and city buses.
And Lincoln's libraries have the most extensive prevention plan he's seen. "If anything is detected physically, it's immediately dealt with," he said. "You can bring a dog in every day, but if you train your employees properly to pick up on physical signs and deal with them, you don't hardly ever have a problem."
Still, if Spots the rat terrier barks at a book, library staff will freeze the whole shelf, Beno said.
That's why the library's policies are so effective, Green said. "Of all the organizations I've worked with, they're on top of things. They have protocol," she said. "It's contained. It doesn't affect the other books."
Green travels the country teaching and training about bed bugs. Locally, she's asked to look at samples and answer questions daily. The bugs are out there. So if you're reluctant to get a book from the library, she said, you shouldn't have friends over, buy anything from a thrift store, go to a movie.
"Bed bugs go wherever we go," she said. "But when they come to the library, it pretty much ends at the library. That's how good they are."