"This is a dangerous time for readers and the public servants who provide access to reading materials. Readers, particularly students, are losing access to critical information, and librarians and teachers are under attack for doing their jobs."

Deborah Caldwell-Stone, director of the ALA's Office for Intellectual Freedom
Banned Books Week celebrates the freedom to read and spotlighting current and historical attempts to censor books in libraries and schools. For more than 40 years, the annual event has brought together the entire book community — librarians, booksellers, publishers, journalists, teachers, and readers of all types — in shared support of the freedom to seek and to express ideas, even those some consider unorthodox or unpopular. The books featured during Banned Books Week have all been targeted for removal or restriction in libraries and schools. By focusing on efforts across the country to remove or restrict access to books, Banned Books Week draws national attention to the harms of censorship.
In a time of intense political polarization, library staff in every state are facing an unprecedented number of attempts to ban books. ALA's Office for Intellectual Freedom documented 1,269 demands to censor library, school and university materials and services in 2022, the highest number in more than two decades. The unparalleled number of reported book challenges in 2022 nearly doubles the 729 book challenges reported in 2021. Censors targeted 2,571 unique titles in 2022, and of those titles, the vast majority were written by or about members of the LGBTQIA+ community or Black, Indigenous, and People of Color. 2023 is already on track to outpace 2022's record-breaking numbers.

The theme for Banned Books Week 2023 is "Let Freedom Read." When we ban books, we're closing off readers to people, places, and perspectives. But when we stand up for stories, we unleash the power that lies inside every book. We liberate the array of voices that need to be heard and the scenes that need to be seen. Let freedom read!

Unite Against Book Bans is a national initiative to empower readers everywhere to stand together in the fight against censorship. Take action and defend the right to read for all Americans.
Honorary Banned Books Week Chair
Beloved reading advocate, writer, and television and film star LeVar Burton will lead this year's Banned Books Week.  Burton is the first actor to serve as honorary chair of Banned Books Week.
Recognizable for his groundbreaking roles in the landmark television series Roots and the Star Trek franchise, Burton's work as a literacy advocate has inspired generations. Many in the book community can trace their love of reading and advocacy for the right to read to Burton's treasured PBS children's series Reading Rainbow. Burton has continued to inspire readers with the enormously popular LeVar Burton Reads podcast. A long-time champion for reading and access to books, Burton executive produced The Right to Read. This award-winning 2023 documentary film positions the literacy crisis in America as a civil rights issue. Read more.

"Books bring us together. They teach us about the world and each other. The ability to read and access books is a fundamental right and a necessity for life-long success. But books are under attack. They're being removed from libraries and schools. Shelves have been emptied because of a small number of people and their misguided efforts toward censorship. Public advocacy campaigns like Banned Books Week are essential to helping people understand the scope of book censorship and what they can do to fight it. I'm honored to lead Banned Books Week 2023."
Banned Books Week offers an opportunity for readers to voice censorship concerns, celebrate free expression and show their communities the importance of intellectual freedom. Here's what you can do to fight censorship, keep books available in libraries, and promote the freedom to read during Banned Books Week and beyond!
Let Freedom Read Day: October 7, 2023
The freedom to read is under attack — let's do something about it!
On October 7, 2023, we're asking everyone to take at least one action to help defend books from censorship and to stand up for the library staff, educators, writers, publishers, and booksellers who make them available!
Tell ALA's Office for Intellectual Freedom if you hear of a challenge at your library. Reporting censorship and challenges to materials, resources, and services is vital to developing the best resources to defend library resources and to protect against challenges before they happen.
Unite Against Book Bans: Action Toolkit
Find a wide range of tools to help you and your community fight censorship from Unite Against Book Bans, including talking points, petition templates, tips for grassroots organizing and contacting media, and much more.
Raise awareness across your social networks with ALA's free downloadable graphics, including challenge infographics and the Top 13 most challenged books. Make sure to include the hashtags #BannedBooksWeek and #UniteAgainstBookBans.
If you're able, support Banned Books Week with a donation of any amount to ALA's Office for Intellectual Freedom to help ensure this important work continues.

Believe it or not, books are being banned and challenged today at an unprecedented rate. A challenge is an attempt to remove or restrict materials, based upon the objections of a person or group. A banning is the removal of those materials.
While books have been and continue to be banned, part of the Banned Books Week celebration is the fact that, in a majority of cases, the books have remained available. This happens only thanks to the efforts of librarians, teachers, students, and community members who stand up and speak out for the freedom to read.
2023 Preliminary Statistics
The American Library Association released preliminary data documenting a continued uptick in attempts to censor books, materials, and services across public, school, and academic libraries in the United States during the first eight months of 2023.
Spread the word by sharing the below statistics (click to enlarge and download).
Of the record 2,571 unique titles targeted for censorship in 2022, these were the most challenged. See the Top 13 titles and reasons they were challenged in libraries and schools.

Censorship data from 2022 paints a vivid picture of attempts to ban or restrict library books and resources across the United States. We break down censorship by the numbers.
When we ban books, we close readers off to people, places, and perspectives. Show your support and stand up for stories. Liberate the array of voices that need to be heard with an array of Banned Books Week 2023 apparel, tote bags, magnets, and more, all available through the ALA Graphics Store. Sales support the American Library Association's critical work in defending and promoting the right to access information.
You can also find themed posters, bookmarks, stickers, and more from Banned Books Week 2023 and past years in the ALA Store.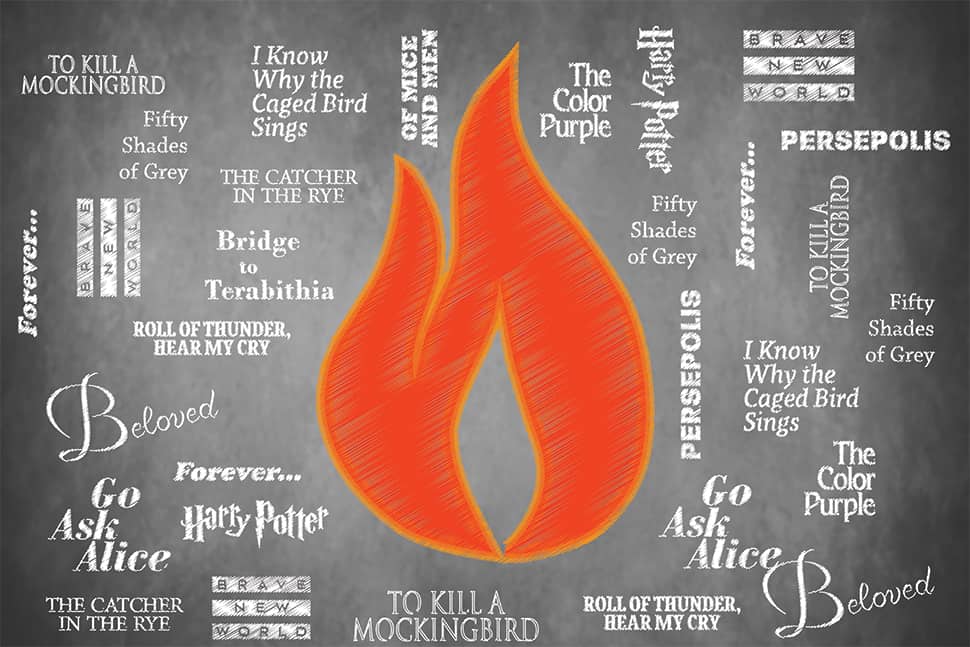 Banned Books Week was launched in the 1980s, a time of increased challenges, organized protests, and the Island Trees School District v. Pico (1982) Supreme Court case, which ruled that school officials can't ban books in libraries simply because of their content.
Banned books were showcased at the 1982 American Booksellers Association (ABA) BookExpo America trade show in Anaheim, California. At the entrance to the convention center towered large, padlocked metal cages, with some 500 challenged books stacked inside and a large overhead sign cautioning that some people considered these books dangerous.
Drawing on the success of the exhibit, ABA invited OIF Director Judith Krug to join a new initiative called Banned Books Week, along with the National Association of College Stores. The three organizations scrambled to put something together by the September show date and ended up distributing a news release and a publicity kit, hoping that with their combined membership of 50,000 people, they could continue to spark a conversation about banned books.
The initiative took off. Institutions and stores hosted read-outs, and window displays morphed into literary graveyards or mysterious collections of brown-bagged books. Major news outlets such as PBS and the New York Times covered the event, and mayors and governors issued proclamations affirming the week.
ALA is currently part of a national coalition to promote Banned Books Week, along with 14 other contributors and sponsors. Krug led the Banned Books Week efforts as OIF director until her unexpected death in 2009. Her legacy lives on in the Freedom to Read Foundation's Judith F. Krug Memorial Fund, a grant awarded to nonprofits to host Banned Books Week events.
Today, Banned Books Week coverage by mainstream media reaches an estimated 2.8 billion readers, and more than 90,000 publishing industry and library subscribers.
Subscribe to the I Love Libraries newsletter for library news and advocacy updates.
Support I Love Libraries and our efforts to promote the value of libraries and librarians.