"This is a dangerous time for readers and the public servants who provide access to reading materials. Readers, particularly students, are losing access to critical information, and librarians and teachers are under attack for doing their jobs."

Deborah Caldwell-Stone, director of the ALA's Office for Intellectual Freedom
Banned Books Week celebrates the freedom to read and spotlighting current and historical attempts to censor books in libraries and schools. For 40 years, the annual event has brought together the entire book community — librarians, booksellers, publishers, journalists, teachers, and readers of all types — in shared support of the freedom to seek and to express ideas, even those some consider unorthodox or unpopular. The books featured during Banned Books Week have all been targeted for removal or restriction in libraries and schools. By focusing on efforts across the country to remove or restrict access to books, Banned Books Week draws national attention to the harms of censorship.
In a time of intense political polarization, library staff in every state are facing an unprecedented number of attempts to ban books. ALA's Office for Intellectual Freedom tracked 729 challenges to library, school and university materials and services in 2021, resulting in more than 1,597 individual book challenges or removals. Most targeted books were by or about Black or LGBTQIA+ persons.
The theme for Banned Books Week 2022 is "Books Unite Us. Censorship Divides Us." Sharing stories important to us means sharing a part of ourselves. Books reach across boundaries and build connections between readers. Censorship, on the other hand, creates barriers. Banned Books Week is both a reminder of the unifying power of stories and the divisiveness of censorship, and a call to action for readers across the country to push back against censorship attempts in their communities.
Unite Against Book Bans is a national initiative to empower readers everywhere to stand together in the fight against censorship. Take action and defend the right to read for all Americans.
Honorary Banned Books Week Chair

George M. Johnson (they/them) is an award-winning Black nonbinary activist and author of The New York Times–bestselling young adult memoir All Boys Aren't Blue (Farrar, Straus and Giroux, 2020) and We Are Not Broken (Little, Brown Books for Young Readers, 2021). All Boys Aren't Blue was the third title on ALA's Top 10 Most Challenged Books of 2021 list. Read more about George.

"Being the honorary chair for Banned Books Week is important to me because I know what it is like to grow up and not have stories about my own lived experience, nor the truth outside of an ahistorical context. This is a fight for the truth that has always existed even if it rarely gets told. When the youth are empowered with stories about the experiences of others, they become adults who understand the necessity for equity and equality and have the tools to build a world the likes of which we have never seen."
Banned Books Week offers an opportunity for readers to voice censorship concerns, celebrate free expression and show their communities the importance of intellectual freedom. Here's what you can do to fight censorship, keep books available in libraries, and promote the freedom to read during Banned Books Week and beyond!
Tell ALA's Office for Intellectual Freedom if you hear of a challenge at your library. Reporting censorship and challenges to materials, resources, and services is vital to developing the best resources to defend library resources and to protect against challenges before they happen.
Unite Against Book Bans: Action Toolkit
Find a wide range of tools to help you and your community fight censorship from Unite Against Book Bans, including talking points, petition templates, tips for grassroots organizing and contacting media, and much more.
Raise awareness across your social networks with ALA's free downloadable graphics, including challenge infographics and the Top 10 most challenged books. Make sure to include the hashtags #BannedBooksWeek and #UniteAgainstBookBans.
If you're able, support Banned Books Week with a donation of any amount to ALA's Office for Intellectual Freedom to help ensure this important work continues.

Books are still being banned and challenged today. A challenge is an attempt to remove or restrict materials, based upon the objections of a person or group. A banning is the removal of those materials.
While books have been and continue to be banned, part of the Banned Books Week celebration is the fact that, in a majority of cases, the books have remained available. This happens only thanks to the efforts of librarians, teachers, students, and community members who stand up and speak out for the freedom to read.
See a list of the top 10 most challenged books each year since ALA's Office for Intellectual Freedom began tracking them in 2001.

Lists of frequently challenged books compile by ALA's Office for Intellectual Freedom. Perfect for your next book club picks.

Show the world you believe that Books Unite Us and Censorship Divides Us with an array of Banned Books Week 2022 apparel, tote bags, magnets, and more, all available through the ALA Graphics Store. Sales support the American Library Association's critical work in defending and promoting the right to access information.

You can also find themed posters, bookmarks, stickers, and more from Banned Books Week 2022 and past years in the ALA Store.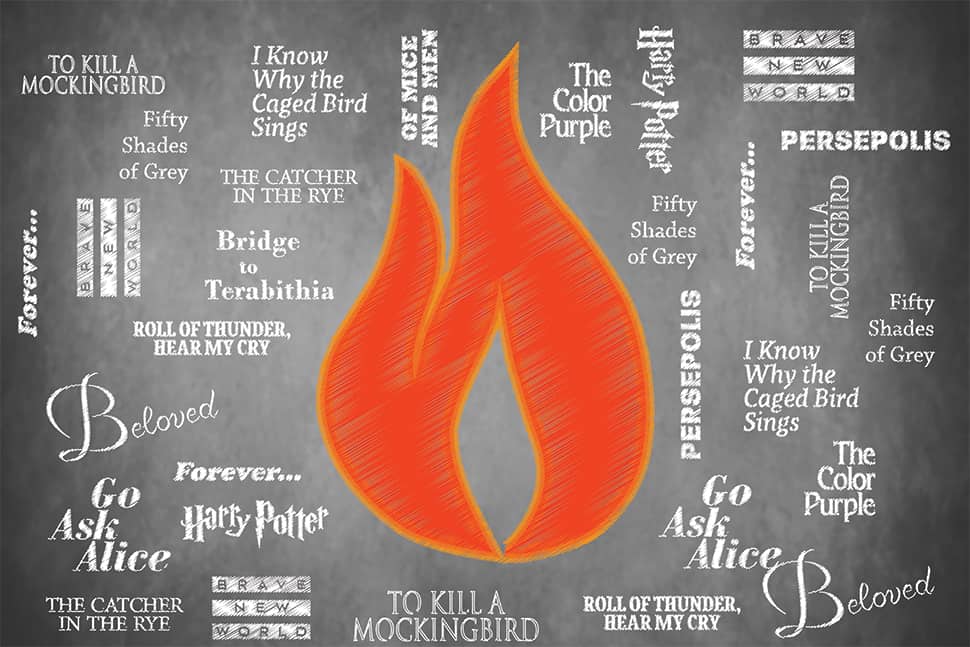 Banned Books Week was launched in the 1980s, a time of increased challenges, organized protests, and the Island Trees School District v. Pico (1982) Supreme Court case, which ruled that school officials can't ban books in libraries simply because of their content.
Banned books were showcased at the 1982 American Booksellers Association (ABA) BookExpo America trade show in Anaheim, California. At the entrance to the convention center towered large, padlocked metal cages, with some 500 challenged books stacked inside and a large overhead sign cautioning that some people considered these books dangerous.
Drawing on the success of the exhibit, ABA invited OIF Director Judith Krug to join a new initiative called Banned Books Week, along with the National Association of College Stores. The three organizations scrambled to put something together by the September show date and ended up distributing a news release and a publicity kit, hoping that with their combined membership of 50,000 people, they could continue to spark a conversation about banned books.
The initiative took off. Institutions and stores hosted read-outs, and window displays morphed into literary graveyards or mysterious collections of brown-bagged books. Major news outlets such as PBS and the New York Times covered the event, and mayors and governors issued proclamations affirming the week.
ALA is currently part of a national coalition to promote Banned Books Week, along with 14 other contributors and sponsors. Krug led the Banned Books Week efforts as OIF director until her unexpected death in 2009. Her legacy lives on in the Freedom to Read Foundation's Judith F. Krug Memorial Fund, a grant awarded to nonprofits to host Banned Books Week events.
Today, Banned Books Week coverage by mainstream media reaches an estimated 2.8 billion readers, and more than 90,000 publishing industry and library subscribers.
Subscribe to the I Love Libraries newsletter for library news and advocacy updates.
Support I Love Libraries and our efforts to promote the value of libraries and librarians.