There's More to the Story
April 23-29, 2023

Libraries are full of stories in a variety of formats, from picture books to large print, audiobooks to ebooks, and more. But there's so much more to the story.
Libraries of Things lend items like museum passes, games, musical instruments, and tools. Library programming brings communities together for entertainment, education, and connection through book clubs, storytimes, movie nights, crafting classes, and lectures. Library infrastructure advances communities, providing internet and technology access, literacy skills, and support for businesses, job seekers, and entrepreneurs.
Celebrate National Library Week this year and tell your library's multi-faceted story!
Honorary National Library Week Chair

Kelly Yang is the #1 New York Times bestselling author of many books for young readers, including the Front Desk series: Front Desk, Three Keys, Room to Dream, Key Player and Top Story, New From Here, and Finally Seen. Front Desk won the 2019 Asian/Pacific American Award for Literature and was chosen as a Best Book of the Year by multiple organizations, including NPR, the Washington Post, and the New York Public Library. Kelly's family immigrated to the United States from China when she was a young girl, and she grew up in California, in circumstances very similar to those of Mia Tang. After attending college at the age of 13, she graduated UC Berkeley and Harvard Law School. She is the founder of The Kelly Yang Project, a leading writing and debating program for children in Asia and the United States. Her writing has been published in South China Morning Post,The New York Times, The Washington Post, and The Atlantic. Learn more about Kelly.

"I am so honored to serve as honorary chair of National Library Week for 2023! As a young immigrant child, I came to this country when I was six years old with no English. I know firsthand that there's so much more to the story when it comes to libraries, just like there's more to my story. I am the product of amazing libraries and librarians, who saw me, supported me, and nurtured me. Through books, movies, games, giveaways, and engaging programming, I found the courage to go for my dreams. So it is with the greatest joy that I join ALA in celebrating libraries everywhere and all they do to inspire, invigorate, and lift up communities!"
The right to read is under attack in communities across the U.S. in the form of book bans. On the inaugural Right to Read Day, take the time to protect, defend, and celebrate your freedom to read.
On Monday, ALA will also release its annual State of America's Libraries Report, including Top Ten Frequently Challenged Books of 2022.
National Library Workers Day
On National Library Workers Day, recognize the valuable contributions made by all library workers at libraries across the country.
Celebrate by submitting a star for the stellar library worker in your life!
National Library Outreach Day
Outside the library's walls, librarians are meeting their patrons where they are. Whether it's a bookmobile stop at the local elementary school, services provided to community homes, or library pop-ups at community gatherings, these services are essential to the community. - in parks, schools, town squares, and more. National Library Outreach Day celebrates the library professionals who make it happen.
Take Action for Libraries Day
Library advocates across the country stand united on Take Action for Libraries Day, an annual day of action during National Library Week! From Congress to local library boards, our elected officials need to hear from library supporters at all levels of government. This year, advocates are joining together to tell Congress to protect the freedom to read and stand against censorship.
Share your excitement for National Library Week with these graphics you can post on your social media, website, and blog!

Whether you're visiting in person or connecting virtually, libraries offer something for everyone through access to books and technology, multimedia content, and educational programs. Take time to learn your library's story during National Library Week to see all it has to offer!
National Library Week Honorary Chair Kelly Yang found the courage to pursue her dreams through access to resources at her childhood library and the support of librarians. What role has the library played in your life? Did you find inspiration in a book? Get help finding a job or starting a business? Have you made new friends at the library?
Tell us by posting to Instagram, Twitter, or on the I Love Libraries Facebook page using the hashtag #MyLibraryStory. One randomly selected winner will receive a $150 Visa gift card and a Kelly Yang Front Desk poster. Three second-place winners will receive Kelly Yang Front Desk posters. The promotion starts Sunday, April 23 at noon CT and ends on Friday, April 28 at noon CT. Don't forget to tag your library!
Official rules (PDF) coming soon.
Feeling artsy? Check out these NLW-themed coloring pages designed by Pennsylvania school librarian Alanna Justice.
They're freely available to download on Canva!
Follow Along on Social Media
Show the world that you love libraries with an array of apparel, tote bags, magnets, and more, all available through the ALA Graphics Store! Sales support the American Library Association's critical work in promoting the value of libraries.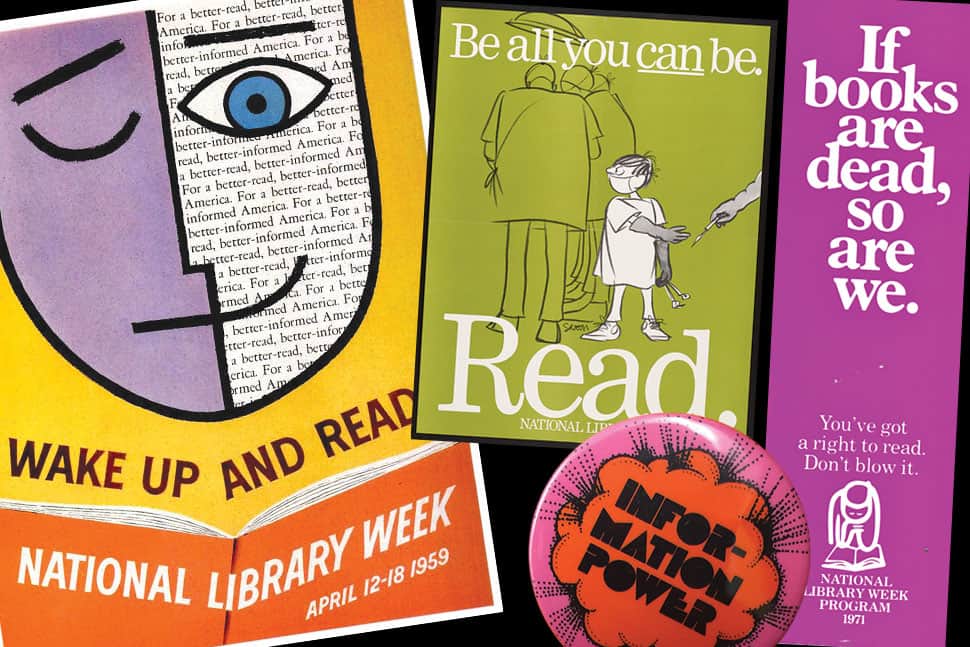 About National Library Week
In the mid-1950s, research showed that Americans were spending less on books and more on radios, televisions and musical instruments. Concerned that Americans were reading less, the ALA and the American Book Publishers formed a nonprofit citizens organization called the National Book Committee in 1954. The committee's goals were ambitious. They ranged from "encouraging people to read in their increasing leisure time" to "improving incomes and health" and "developing strong and happy family life."
In 1957, the committee developed a plan for National Library Week based on the idea that once people were motivated to read, they would support and use libraries. With the cooperation of ALA and with help from the Advertising Council, the first National Library Week was observed in 1958 with the theme "Wake Up and Read!" The 2018 celebration marked the 60th anniversary of the first event.
Subscribe to the I Love Libraries newsletter for library news and advocacy updates.
Support I Love Libraries and our efforts to promote the value of libraries and librarians.