CONNECT WITH YOUR LIBRARY | APRIL 3-9, 2022

The theme for National Library Week 2022, "Connect with Your Library," promotes the idea that libraries are places to get connected to technology by using broadband, computers, and other resources. Libraries also offer opportunities to connect with media, programs, ideas, and classes—in addition to books. Most importantly libraries also connect communities to each other. Overall, the theme is an explicit call to action—an invitation for communities to join, visit, or advocate for their local libraries.
Honorary National Library Week Chair

Molly Shannon, multiple Emmy-nominated and Spirit Award-winning actress, comedian, and legendary Saturday Night Live cast member, will help celebrate our nation's libraries as the honorary chair of National Library Week.
"I am so honored to serve as honorary chair of National Library Week for 2022. My mom was a librarian. She encouraged kids to read. So, the work of librarians and libraries has such a special place in my heart.
Libraries are places where communities connect—to things like broadband, computers, programs and classes, books, movies, video games, and more. But most importantly, libraries connect us to each other. Supporting National Library Week in this role allows me to connect to my mother's memory and all the librarians out there. Thank you for everything you do."

National Library Week Celebration Days
Release of the annual State of America's Libraries Report, including Top Ten Frequently Challenged Books of 2021.
National Library Workers Day: a day for library staff, users, administrators, and Friends groups to recognize the valuable contributions made by all library workers.
Celebrate by submitting a star for the stellar library worker in your life!
National Library Outreach Day (formerly National Bookmobile Day), a day to celebrate library outreach and the dedicated library professionals who are meeting their patrons where they are.

Celebrate by sharing your NLOD Story.
Whether you're visiting in person or virtually, libraries offer the opportunity to connect with new worlds through access to technology, multimedia content, and educational programs. Take time to connect with your library during National Library Week to see all they have to offer.
Join the "#MyLibrary connects me to..." Conversation
As National Library Week Honorary Chair Molly Shannon says, "Libraries are places where communities connect—to things like broadband, computers, programs and classes, books, movies, video games, and more." During National Library Week 2022, we're asking you to share the connections you've made thanks to your library. Did you find a great book? Get access to computers? Attend a great program or storytime? Make new friends at the library's book club?
Tell us by posting to Instagram, Twitter, or on the I Love Libraries Facebook page. Use the hashtag #MyLibrary. We'll gather all the entries, and one randomly selected winner will receive a $100 Visa gift card. The promotion starts Sunday, April 3 at noon CT and ends on Saturday, April 9 at noon CT. Don't forget to tag your library!
If you love your library, say it loud and proud: vocal community support helps libraries secure much-needed funding and reminds hardworking library staff that their efforts are appreciated. Participating in the #MyLibrary promotion is a quick, easy way to help your library thrive!
Help spread the word about the #MyLibrary promotion by sharing these graphics on social media: Twitter/Facebook | Instagram
Follow Along on Social Media
Be sure to follow your library on social media so you don't miss out on all they have to offer, including the most reliable information about keeping your family safe during these uncertain times.
Post one of our available graphics to your social media account and join the conversation by using the hashtags #NationalLibraryWeek.
Don't forget to follow I Love Libraries and the American Library Association on social media!
I Love Libraries
Twitter: @IloveLibraries
Facebook @ILoveLibraries
ALA accounts
Twitter: @ALALibrary
Facebook: @AmericanLibraryAssociation
Instagram: @americanlibraryassociation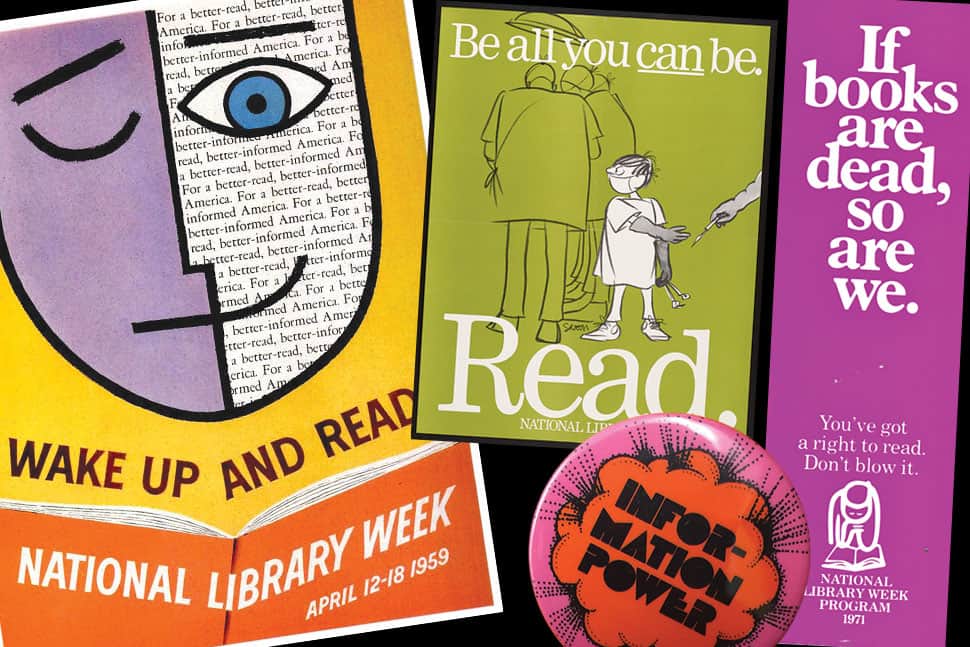 About National Library Week
In the mid-1950s, research showed that Americans were spending less on books and more on radios, televisions and musical instruments. Concerned that Americans were reading less, the ALA and the American Book Publishers formed a nonprofit citizens organization called the National Book Committee in 1954. The committee's goals were ambitious. They ranged from "encouraging people to read in their increasing leisure time" to "improving incomes and health" and "developing strong and happy family life."
In 1957, the committee developed a plan for National Library Week based on the idea that once people were motivated to read, they would support and use libraries. With the cooperation of ALA and with help from the Advertising Council, the first National Library Week was observed in 1958 with the theme "Wake Up and Read!" The 2018 celebration marked the 60th anniversary of the first event.
Subscribe to the I Love Libraries newsletter for library news and advocacy updates.
Support I Love Libraries and our efforts to promote the value of libraries and librarians.